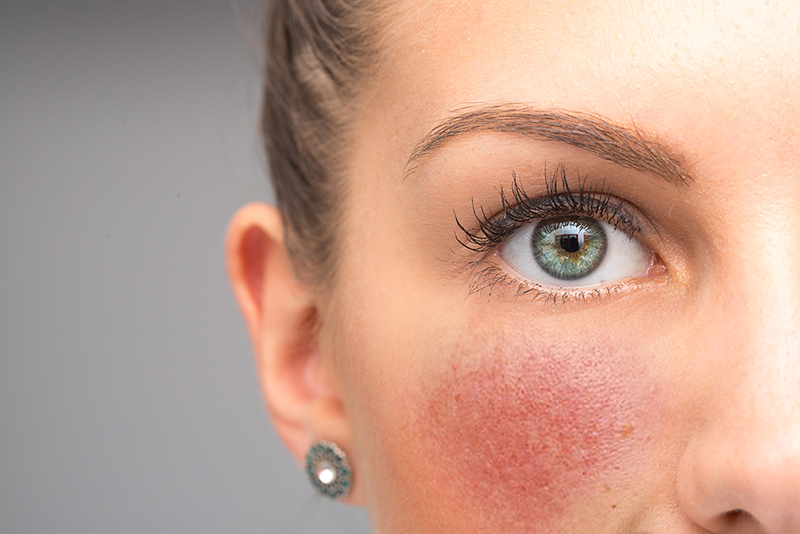 The surprising truth about rosacea is that nobody truly knows what causes it.  Experts do have theories about it:
It is known to run in families, so it is believed that there is a genetic factor involved.
There is a mite that lives on the skin called demodex folliculorum, it is usually quite harmless, but some people have a heightened sensitivity to the mite and it can cause irritation.
There is a bacteria in the intestines called H Pylori that, when elevated, can cause the skin to flush.
Or it can be triggered by hormonal changes like pregnancy and menopause.
So, what exactly is rosacea?  Rosacea is so much more than just sensitive skin. It is a common skin condition that can appear on the nose, cheeks, chin, and forehead, and less commonly, on the chest, ears, neck, eyes, and scalp.  It starts off as a general inflamed redness, and, if left untreated, can result in itchiness, red solid bumps, and pus-filled lesions, In the worst cases, thickening of the skin particularly on the nose, can result in rhinophyma.  It can affect anyone, regardless of their skin tone, but it is more commonly found in people with fair skin, particularly those with Celtic and Scandinavian ancestry.  Women between the ages of 30-50 are more likely to suffer from rosacea, but it can affect men too.  When men do have rosacea, they tend to suffer more severe symptoms.
There is a commonly held misconception that rosacea is caused by eating chocolate or by drinking caffeine or alcohol. The good news is that this simply isn't true, but the bad news is that certain foods and drinks are triggers for rosacea and will exacerbate symptoms. Unfortunately, hot drinks, alcohol, and spicy foods are on that list.
If you suspect that you may have rosacea, it is always wise to see a dermatologist. For mild to moderate rosacea, your doctor may prescribe a cream or gel that you apply to the affected skin to reduce redness by constricting blood vessels. You may see results within 12 hours after use. The effect on the blood vessels is temporary, so the medication needs to be applied regularly to maintain improvements.
Other topical products have less effect on the redness but help control the pimples of mild rosacea. Noticeable improvements generally don't appear for two to six weeks, sometimes even longer, but can results in a longer remission.
Your doctor may prescribe an oral antibiotic as well for moderate to severe rosacea with bumps and pimples.
Next you have to learn how to care for your skin.  I highly recommend that you get gentle facials to calm irritation, reduce inflammation, and restore the skin's weakened lipid barrier.  Use of LED light therapy will help to heal the skin and further reduce inflammation.   If you have acne-like lesions from your rosacea, don't be tempted to use products formulated for an acneic skin, as they are likely to cause irritation and make your rosacea worse. 
At home, I recommend the use of gentle products.  For a very basic routine, Avène has a full line of skincare products that were created using Avène Thermal Spring Water, with its natural healing properties, as the key ingredient.  Cleanse with Avène Antirougeurs Clean Cleansing Lotion, sprtiz the skin with Avène Thermal Spring Water, and moisturize with Avène Cicalfate Skin Recovery Emulsion, Avène Cicalfate Restorative Skin Cream, Avène Extremely Rich Compensating Cream, or Avène Antirougeurs Fort.  You can supplement this basic routine with a weekly mask – Avène Soothing Sheet Mask (Pro tip! Refrigerate this mask to make it extra soothing).  When your rosacea is under control, you could introduce a very low strength anti-aging retinol product – Avène Retrinal 0.1, to gently increase cell turnover.
Avène is definitely not your only choice for skin care.  We also recommend
Of course, no skin care routine would be complete without sun protection, and people who suffer from rosacea need it to keep the sun off their skin.  You have a wide choice of formulas from two of our favorite brands, Elta MD and Colorescience.
Ready To Book Your Appointment?