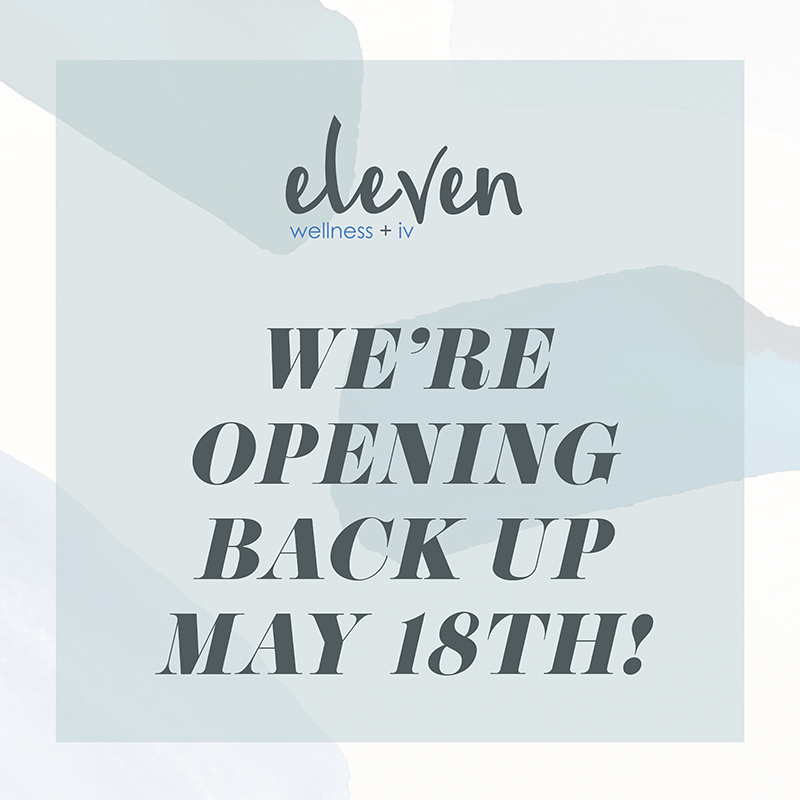 To our most valued Clients,  
Eleven Wellness + IV is happy to announce our reopening date: Monday May 18th! 
In order to provide the safest environment for our clients, we have implemented the following precautionary measures, as directed by the CDC. 
Updated scheduling process to abide by social distancing guidelines  
Facemasks required for all clients and visitors upon entry 
Screening of all employees and clients for exposure risk 
Strict hand hygiene and use of PPE 
Extensive cleaning protocols for patient and visitor areas 
 We are also happy to announce that each one of our team members has been recently tested prior to reopening for the COVID19 virus in order to ensure the safety of our clients and our environment.   
 Clients can expect the following: 
A confirmation call and the screening forms via email 48hrs prior to your scheduled appointment, that MUST be completed 24hrs prior to your arrival.  It is pertinent that our providers review your forms 24hrs in advance in order to run efficiently and responsibly 
Credit Card capture prior to your appointment, as we will not be accepting cash for payment or gratuities 
Upon arrival, please wait in your car.  You will receive a text when your aesthetician is ready to meet you in our lobby. 
Temperature check upon arrival for your appointment 
 We are extremely proud to be able to once again provide services in the safest way possible. 
 In anticipation, 
 The Eleven Wellness + IV Team 
Ready To Book Your Appointment?